15th April 2019 - Spray Drying Process Development and Scale up
Upperton Pharma Solutions are one of the very few CDMO's that have a bespoke, fully equipped non-GMP pilot plant designed to reduce the timelines and the costs for scale up and transfer of spray drying processes into GMP.
Spray Drying Development and Scale up
Formulation and early process development studies are performed in the Upperton spray drying development suite on one of our laboratory-scale Büchi B290 spray dryers. 
These are excellent spray dryers for early development studies; enabling us to produce stable formulations to meet our customers' requirements. They also allow us to define the process design space for producing the spray dried formulation using a DoE approach. 
The next step towards clinical manufacture is transfer of the process onto one of the GMP-compliant spray dryers, housed in our non-GMP pilot plant.
Depending upon the scale eventually required for clinical manufacture, the process may be transferred onto our ProCepT 4M8-TriX spray dryer or it may be scaled up onto our GEA Niro Mobile Minor spray dryer which can be used to produce batches of up to ~3kg spray dried product. 
The Upperton pilot plant is equipped with exactly the same spray dryers as our GMP facility. This allows us to produce kilogram quantities of non-GMP material to support toxicology and stability studies at a fraction of the cost of GMP manufacture.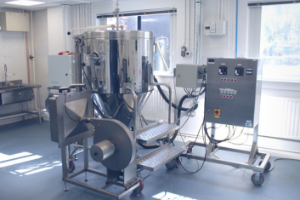 Once tech transfer / scale up studies are completed: A Master Batch Record can be produced, Chemistry, Manufacturing and Controls (CMC) batches can be manufactured and the process is ready to be transferred directly into the GMP facility for clinical manufacture.