Identification, Development, Monitoring and Quality Control Testing of your Product
All of Upperton's Development and Manufacturing Services are underpinned by our experienced analytical team and capabilities.
Our scientist know that the success of all projects begins with a solid understanding of your API's physio chemical characteristics and working in conjunction with our formulators we work to ensure the early identification of lead prototype formulations suitable for clinical testing followed by the development of suitable methods for the monitoring of your product through the development cycle.
Using a range of techniques including, DSC / TGA, XRPD, Microscopy, FTIR, Particle sizing. etc. we gain fundamental understanding and insight into the behaviours and of your API and support the development activities required to support First in Human studies and product development.
Material Identification
Solubility Screening
Excipient Compatibility
Physio Chemical characterisation
Support or enabling protocols UpperSolv™,  PulmoCraft™ and UpperNose™
Stability Testing (ASAPprime® )
Early data read outs on the stability of both the API and early formulations can be used to provide early indications on potential stability issues, vital information that can save time and money in the development pathway. ASAPprime® has been incorporated into our development programme as a critical, early stage analytical tool for identifying potential stability issues
Analytical and QC Services
Once your product enters clinical development our dedicated team of analytical experts work with you and our cross functional teams to transfer, development, and phase appropriate validation of your analytical methods and performance of QC and release testing including:
Assay, Content uniformity and related substances by HPLC
Performance testing including Dissolution and Disintegration
Moisture and residual solvents
IC Stability testing
Cleaning verification
DoE studies to investigating critical process parameters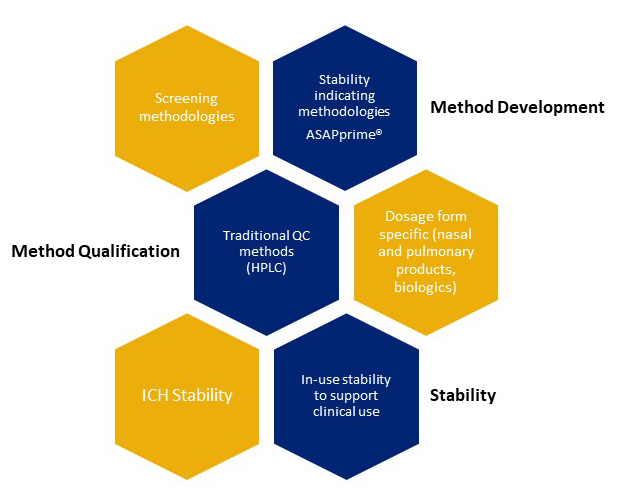 Analytical Techniques Available Include
Differential Scanning Calorimetry (DSC)
Thermal Gravimetric Analysis (TGA)
Dynamic Vapour Sorption (DVS)
X-ray Powder Diffraction (XPRD)
Scanning Electron Microscopy (SEM)
Raman Spectroscopy
High Performance Liquid Chromatography (HPLC)
Liquid Chromatography – Mass Spectrometry (LCMS)
Ultra Violet Gas Chromatography (UVGC)
Fourier-transform Infrared Spectroscopy (FTIR)
Karl Fischer
Dissolution Apparatus I and II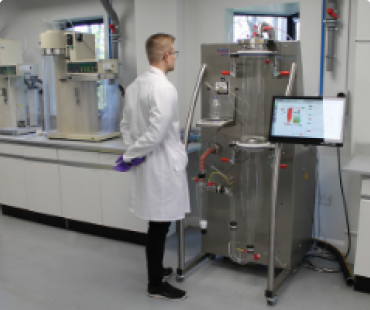 Upperton's formulation development team will confidently guide you on the best route forward.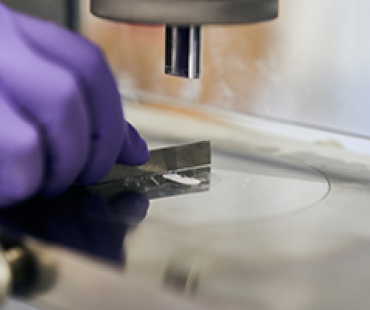 Utilise our expertise and know-how to solve problems unique to your challenging molecule.