19th March 2019 - Engineered Powder for Enhanced Pulmonary Delivery
Upperton is continuing to invest in its combined spray drying and micronisation technology in order to meet increased demand. This emerging processing technology has been developed to enable the production of larger quantities of engineered powder formulations suitable for pulmonary delivery.
The expansion of this service has been driven by growing demand for this exciting next generation pulmonary delivery technology particularly from customers requiring GMP manufacturing to support clinical trials.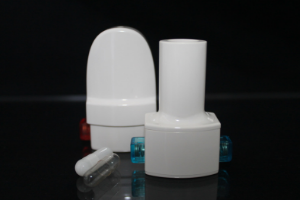 Producing engineered powder with the optimum aerodynamic particle size distribution of 1-5 µm for pulmonary delivery is fairly straightforward on a laboratory scale spray dryer. Feedstocks of low solids concentration are typical; processing rates are kept relatively low and high atomisation gas pressures are employed in order to generate the very small particles needed for high levels of deposition and uptake in the alveoli.
Challenges arise when larger quantities of material are required and a scaled-up, commercially viable process is essential.  Particles in the 1-5 µm range are notoriously difficult to produce and collect efficiently on larger pilot or commercial scale spray dryers. Size distributions can often creep upwards, and product yields can plummet. This is particularly bad news for high value APIs!
The Upperton approach is to optimise the spray drying process for product yield, with particle size no longer the primary focus. The feedstock concentration and processing rate can both be increased; significantly reducing both manufacturing time and cost. The spray dried particles are then reduced to the target particle size distribution, using a carefully controlled dry powder milling process. The result is a much faster, more efficient process producing large quantities of powders with excellent aerolisation properties.
Impaction testing of our model pulmonary formulations shows that we can reproducibly generate dry powders with an aerodynamic particle size distribution of 1-5 µm, with fine particle fraction in excess of 70% when formulated powders are delivered from commercially available DPI's.