Evaluating the Best Options for Successful Formulation Development.
Upperton's talented R&D team have a breadth of experience and will confidently guide you on the best route forward for your pharmaceutical development program, by offering early stage proof of concept studies.
From sensitive Biologics to poorly soluble small molecule APIs, we have experience of developing successful spray dried formulations for a range of dosage forms.
Our skilled team are able to quickly evaluate the feasibility of spray drying to solve some of the pharmaceutical industries most pressing challenges. Upperton's science led approach means we can do this with small amounts of material with a rapid turnaround of a couple of days.
Proof of concept studies at Upperton incorporate: solvent screening, spray drying SDDs (spray dried dispersions) and characterisation of both SDDs and API (active pharmaceutical ingredient).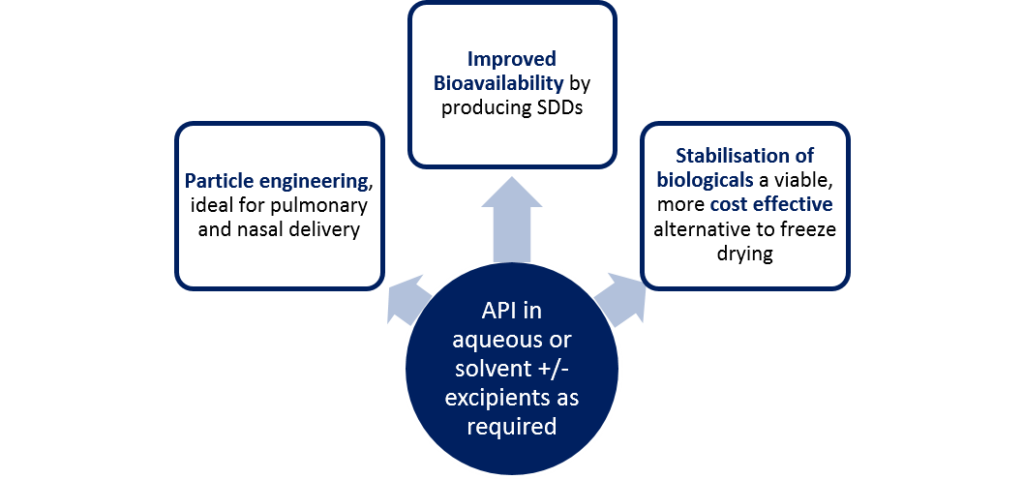 Bioavailability Enhancement For Poorly Soluble Drugs
Many new molecules entering the drug pipeline have poor solubility, leading to problems such as poor or variable bioavailability. Using techniques such as 
spray drying
 and micronisation, our team can prepare stable amorphous drug forms on the milligram scale for evaluation 
in vitro
 and in preclinical studies. With the right matrix to stabilise the amorphous form, spray drying or micronisation are proven techniques to greatly increase oral bioavailability of poorly soluble APIs. Developing a strong understanding early in drug development is key to preventing common root causes for failure and producing enabling formulations to maximise outcomes. Our early formulation platform 
UpperSolv™
 allows rapid, tailored screening of small quantities of API against a range of excipients.
Stabilisation of Biologics
There is an ever increasing number of biotherapeutic entities currently entering the development pathway. Biologics are complex molecules ranging from small peptides to much larger proteins, monoclonal antibodies (mAbs) and vaccines. They all share the same properties in that they provide highly specific, targeted therapies for a range of clinical conditions.
Traditionally freeze drying (lyophilisation) is the method of choice for stabilising these sensitive molecules. Now more and more of our customers see spray drying as a more cost effective alternative with the added benefits of speed and scalability.
The Upperton team have worked on many proof of concept biologic projects and in doing so they have a deep understanding of the challenges associated with the handling, formulation and analysis of these highly complex molecules.
Delivery of dry powder therapeutics through devices is generating increasing interest in both the pharmaceutical and more recently the biotechnology industry. Particle size specifications for
pulmonary
and
nasal drug delivery
 are well defined to ensure efficient and safe delivery to the site of action. For successful pulmonary delivery, particles tend to be small and require the right aerodynamic properties needed to reach the deep lung. Spray drying is a well-established technique for producing particles that meet this specification, generating excellent fine particle fraction and respirable dose. Upperton have devised a solution for scale-up, called 
PulmoCraft™
which allows us to efficiently manufacture and collect small particles for dry powder inhalers (DPI). Larger particles are required for nasal delivery to ensure the particles deposit in the nasal cavity and are not inhaled in the lungs.  The particle size can be readily tuned using spray drying to ensure the specified particle sizes and size distributions are met.  Visit our
UpperNose™
page to learn more about our Nasal delivery platform.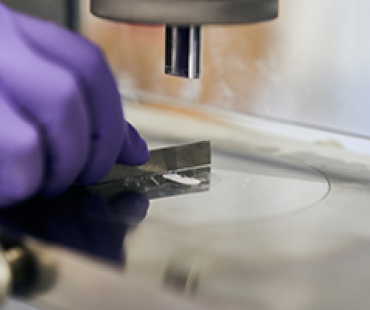 Utilise our expertise and know-how to solve problems unique to your challenging molecule.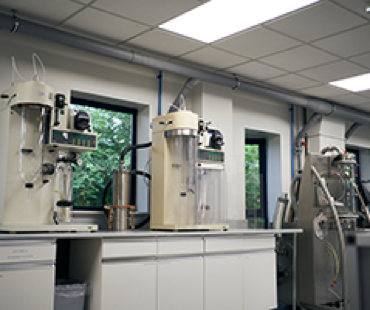 Developing spray dried formulations spanning a vast range of therapeutics from small molecules to biologicals.