14th January 2020 - Oral Solid Dosage Forms Containing Amorphous Spray Dried Dispersions: Choices for First in Human Studies
The number of amorphous solid dispersions entering first in human (FIH) studies continues to increase, due to the growing number of novel APIs with a poor solubility profile, and associated bioavailability challenges.
Spray drying is a useful technology for creating a form of amorphous solid dispersions called spray dried dispersions (SDDs). Spray drying a poorly soluble API into a suitable SDD is not the end of the development pathway, as further work is required to formulate the SDD into a suitable oral solid dosage form for larger scale clinical and commercial manufacture.
Before the final dosage form can be developed there is significant pressure to generate early clinical data with the API. This pressure is usually a financial one, with early safety and PK data required to justify further internal or external funding, or to put more succinctly "does this API work and can I justify spending more money on it?".
Either way, the outcome of this pressure is a need to undertake early clinical testing on the SDD in the knowledge that the final dosage form has yet to be defined.
Allied to the time and costs for developing a formulation it is important to bear in mind some of the process specific characteristics of SDDs which in turn will have an impact on the choice of FIH dosage form. These include:
Poor powder properties; typically, difficult to handle (e.g. cohesive and with high static charge)
Hygroscopic, which can lead to instability and induce recrystallisation
Poor wettability (will not disperse in a reproducible manner) forming "plugs" on wetting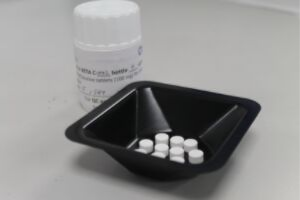 Choosing an Oral Solid Dosage Form for FIH Studies
In general practitioners usually consider 3 oral dosage delivery forms for FIH studies:
SDD Powder in bottle: The simplest and quickest delivery format for FIH studies. SDD is filled into bottle / sachets and supplied in a dry state to clinical site. The powder is reconstituted in an aqueous suspension (or simple buffer) immediately prior to dosing.
SDD filled in capsules: The SDD powder is filled into capsules for dosing in FIH study. It is possible to use enteric coated capsules for targeted delivery. The SDD can be filled on its own or it can be incorporated with excipients to aid capsule filling and ensure disintegration and dispersion of capsule contents.
SDD formulated into tablet: Either a simple direct compression process or more complex formulation, with the potential to enteric coat.
Solid Dosage Forms for FIH Studies: Advantages and Disadvantages
Key Formulation Considerations
Powder in bottle
Dry powder SDD provided to clinical site. SDD dispersed in delivery vehicle immediately prior to dosing.
Check powder disperses in suspension vehicle.
Confirm physical / chemical stability of API in suspension vehicle over dosing window (typically 2-4 hours).
Simple formulation, quick to clinic (short term cost / time saving).
Overcomes dispersion issues often seen with SDD in capsules.
Wide dose range possible and simple to vary dose
Maximise release potential.
Stability concerns.
May not be representative of future oral dosage form (tablet).
No potential for targeted delivery (immediate release in stomach).
Final dosage form will still need to be developed.
Filled into capsules
Spray dried powder filled into capsules.
Target dose may be limited by capsule size / fill.
Likely to need excipients to aid dispersal (wetting often a problem).
Excipient compatibility and stability in capsule will be required.
Avoids the issue of dispersing drug in aqueous media and possible instability.
Potential for enteric coating (including pre-coated capsules).
Potentially more representative of a final dosage form.
Issue of dispersal needs to be addressed (often irregular).
Dose range may be more limited. (multiple capsules may be required).
Enteric coating not as reliable as tablets.
Formulated into tablet
SDD blended with excipient(s) and compressed into tablet.
SDD may require densification / granulation.
Drug loading and excipient compatibility needs to be addressed.
Enteric coating (if required) is possible but adds extra complexity.
Release profile needs to be determined.
Indicative of future performance and representative of final dosage form
Best approach if enteric coating (targeted delivery) is required in early studies.
Possible to incorporate different release profiles (immediate-release / sustained release) in the same study.
More complex, takes time / money to develop even a simple formulation.
Dose range may be limited.
Stability / compatibility needs to be determined.
By far the quickest and simplest dosage form for FIH studies is the 'SDD powder in bottle' presentation. This gives the practitioner the widest flexibility in terms of dosing and in terms of time / cost it is the most effective way of generating early clinical data.
In contrast, capsule and tablet formulations can be considered for testing SDDs in FIH studies. These clinical presentations will take more time / cost to develop but are likely to yield more clinically relevant data on the likely in vivo performance of an API. In addition, there is the potential to incorporate enteric protection or sustained release profiles depending on the known liabilities and properties of the API.