17th September 2019 - Press Release
In recent weeks Upperton has been focussing heavily on enhancing our formulation capabilities (through increased tabletting capabilities) with a series of investments in new equipment for our R&D and QC laboratories. This is now being followed by our largest ever capital investment programme aimed at bringing in new manufacturing capabilities into our GMP plant.
Our first major investment in this area is aimed at enhancing our output and capabilities in tabletting and to achieve this we have made a strategic investment in a new state-of the-art tablet press. This investment will enhance the company's development and manufacturing capabilities whilst strengthening their ability to support clients' research, development and clinical manufacturing needs.
The new cutting edge tablet press, a Futorque X- by KG-Pharma is designed specifically to support both R&D studies and production batches.  Indeed the unique features of this machine mean that it equally capable of producing up to 130,000 tablets per hour or supporting DoE and research studies with minimal material and can accommodate multiple tooling formats.
The tablet press is the first in a string of equipment investments being made by the CDMO as a follow-up to receiving MHRA approval for its GMP clinical manufacturing facility.
Paul Kelsall, Director of Clinical Manufacture said: 'This is an extremely exciting time for the business as we continue to expand on our GMP processing capabilities. We are always looking to increase our capabilities, in our people, plant and processing equipment and this is a huge step forward as we look to support our clients clinical manufacturing requirements.'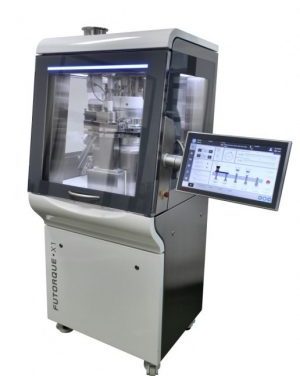 Upperton Pharma Solutions develops and produces oral and inhalation drug products for clinical trials and is able to optimise formulation performance through a science-led approach to projects. 
Dr Ian Lafferty, Technical Consultant added: 'The investment in this high specification, versatile instrumented tablet machine provides Upperton Scientists with the equipment to manufacture clinical supplies and will also allow them to generate the data required to gain in-depth understanding and knowledge of process and formulation behaviour during compression that is key to supporting our clients during future scale-up, production and registration stages of their product development.'
The CDMO's GMP clinical manufacturing capabilities are based at its site in Nottingham, UK and are supported by its materials characterisation, analytical and IP consultancy services. 
Learn more about our GMP capabilities.