29th October 2019 - Press Release
Upperton Pharma Solutions, a UK-based contract development and manufacturing organisation (CDMO) has significantly increased its solid dosage form capabilities following a strategic investment in a new state-of the-art tablet coater. This investment will enhance the company's development and manufacturing capabilities whilst strengthening their ability to support clients' research, development and clinical manufacturing needs.
Film coating is a key process offering a wide range of drug delivery benefits including: taste/odour masking, stability protection, modification of release profiles, ease of administration and product identification. This investment continues Upperton's commitment to offer our clients access to scalable processing equipment and services that support the ever-growing demand for the development of difficult to formulate compounds.
The O Hara LC M5 coater with its wide range of interchangeable pans is ideally suited to supporting projects from R&D coating studies through to production of clinical batches using exactly the same technology as larger scale equipment thereby significantly de-risking the scale-up process.
Paul Kelsall, Director of Clinical Manufacture said: "Upperton are committed to expanding its GMP processing capabilities and we have seen acquisitions in Rotary Compressing capability and now Tablet Coating. These are significant advances in our service offering and enables us to meet our client's requirements beyond our core capability of Spray Drying. The O'Hara Labcoat M5 Coater will be a critical part of our service offering and will give us great flexibility in the coating operation."
Upperton Pharma Solutions develops and produces oral and inhalation drug products for clinical trials and is able to optimise formulation performance through a science-led approach to projects.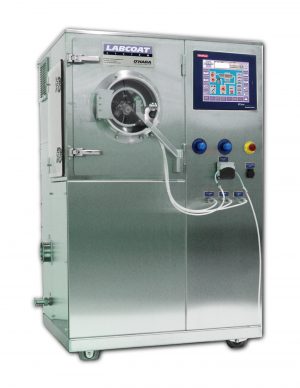 Dr Richard Johnson, Founder and CEO added "The acquisition of flexible capsule and tablet coating capabilities is yet another important piece of the jigsaw in our expansion programme. The addition of the tablet coater to our range of capabilities demonstrates to our customers our ambition to acquire the most up-to-date formulation technologies that the industry has to offer."
The CDMO's GMP clinical manufacturing capabilities are based at its site in Nottingham, UK and are supported by its materials characterisation, analytical and IP consultancy services.
Learn more about our GMP capabilities.