For Successful Nasal Drug Delivery of Small Molecules and Biologics
The Growth in Nasal Drug Delivery
In recent years there has been a significant increase in interest in nasal drug delivery to deliver small molecules and biologics via the nasal cavity to achieve higher efficacy, both locally and systemically, whilst at the same time reducing the exposure to other organs and systemic adverse events.
Nasal Delivery: Target Route of Administration

The recent Covid-19 pandemic has only acted to increase interest in this exciting delivery route in the race to find anti-viral, immune stimulators and new routes of administration for vaccines.
Indeed, the ability to self-administer small molecules, biologics and vaccines via the nasal route is highly attractive yet the knowledge and expertise necessary to rapidly develop products for this delivery route remains limited in the CDMO space.
Dry Powder or Liquid Dosage Form?
Nasal Drug Delivery: Choice of device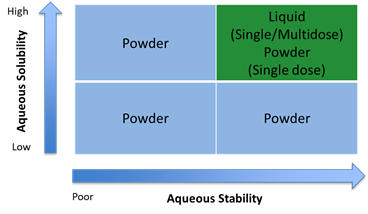 One of the first decisions that need to be considered is the choice of device, broadly speaking there are three options:
Liquid Device (single dose)
Liquid Device (multidose)
Dry Powder Device (single dose)
The choice of device will be driven by a number of factors which we will emerge during discussions with our clients and will be driven by a number of factors such as:
Target product profile
Physical/chemical properties of the API (ie aqueous solubility and stability)
Speed to clinic (a liquid device formulation can be developed more readily than a dry powder version).
Formulation Development and Scale up
Once data has been generated the choice of device can be made and the formulation developed/scaled up ready for clinical manufacture Process optimisation and scale up are also needed to support the regulatory submissions since it is likely that larger quantities of liquid or powder formulations will be needed for toxicology work as well as providing material for stability testing.
At Upperton we have particular expertise in utilising spray drying to engineer particles with the optimal aerodynamic particle size needed to achieve nasal deposition whilst minimising the potential for small particles to be generated that could in theory travel through the nose into the lung.
Electron Micrograph of Spray dried powders for nasal delivery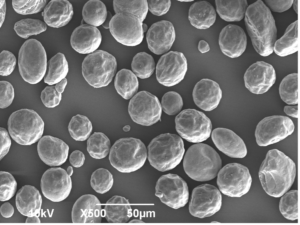 Liquid Deposition in a Nasal Cast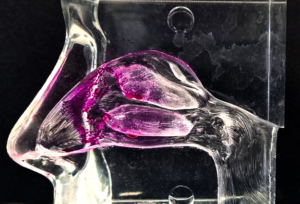 Testing Nasal Dosage Forms
One of the biggest challenges that companies are faced with when developing a nasal delivery formulation is that of testing ie having access to the range of chemical and physical test methods needed to guide formulation development as well as generating product performance data to support regulatory submissions and ultimately product release.
At Upperton we can provide customers with all of the necessary release testing methods needed by each of the regulatory authorities.
Nasal Delivery: Testing Finished Products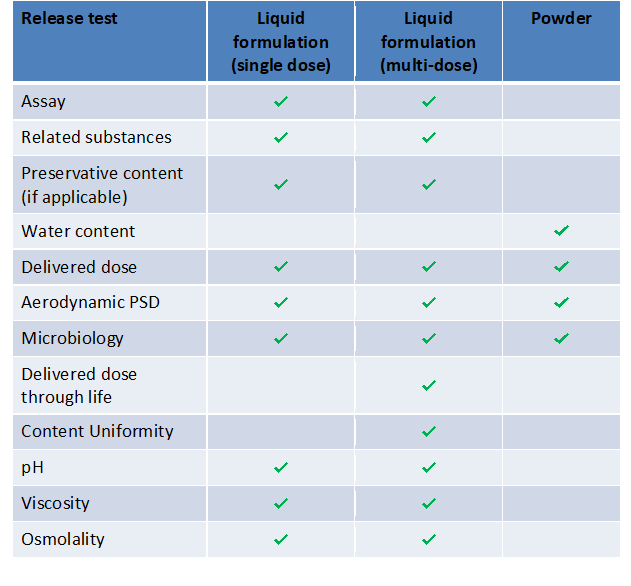 Copley AINI device attached to the Next Generation Impactor (NGI)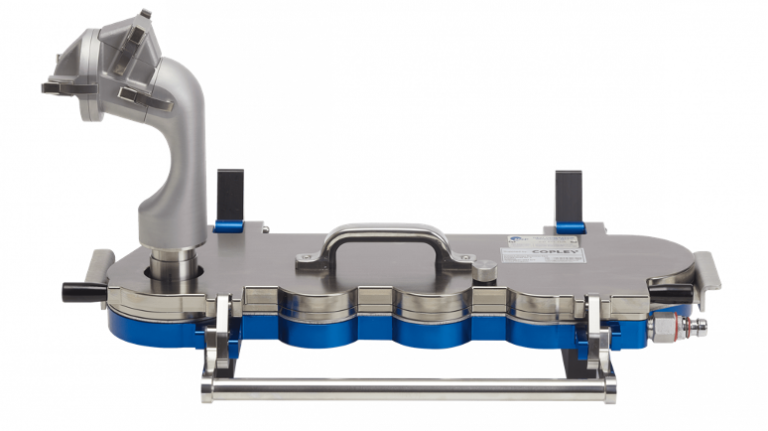 To meet the growing demand for nasal delivery, Upperton has developed a unique delivery platform designed to help our customers progress from initial proof of concept to being ready for clinical manufacture in 12 weeks. The platform is called UpperNose™.
Our aim is to make it easier and faster for small and mid-sized innovators to access the knowledge and capabilities necessary for the successful development of nasal dosage forms.
The UpperNose™ platform can be applied to liquid and dry powder formulations and utilises the knowledge and expertise of the highly experienced Upperton scientific team to develop your molecule in an efficient and timely manner.
The UpperNose™ Development Pathway: Ready for clinical manufacture in 12 weeks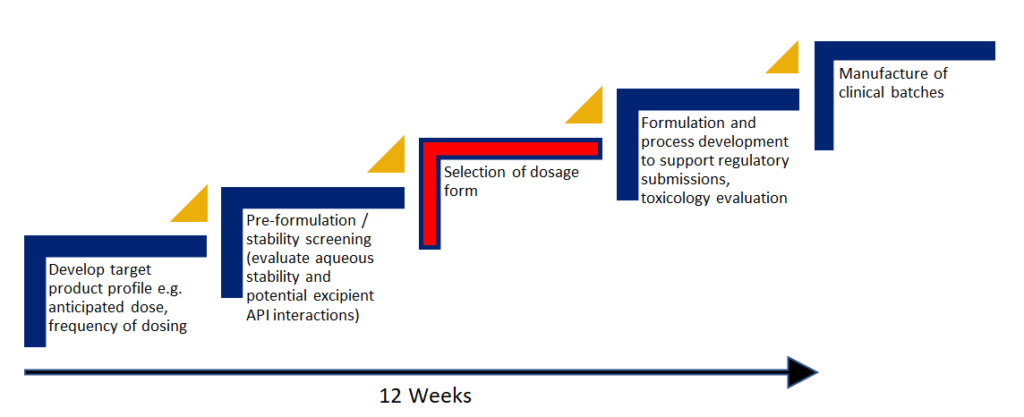 Working closely with our clients, we will quickly identify the most time/cost effective development pathway and selection of device to take our customers into the clinic in a time and cost-effective manner