3rd September 2019 - Celebrating 20 years of pharmaceutical spray drying, part 2
Upperton celebrated their 20th anniversary on the 31st August and to mark the occasion we are releasing a two-part newsletter. Last week Upperton's Founder and CEO Dr Richard Johnson talked about the company's origins, what has driven the business success and how the industry has changed.
In this week's edition Richard Johnson looks forward and shares his thoughts on the future of the CDMO industry and what he envisions for the future of Upperton.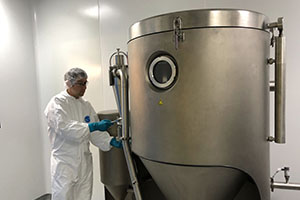 What do you think the next 20 years will bring for Upperton?
Spray drying will always be at the heart of everything we do; developing our spray drying capabilities and the applications for our core technology will remain our key focus.
Having said that, Upperton is all about evolution, we continually seek to add new technologies and services to meet our customers' demands. Indeed this expansion of capabilities will be vital if we want to achieve our growth target which is to double our turnover in the next three years. Indeed, our projections confidently predict that our current facility will reach capacity by the end of 2022 so a move to larger facilities will be very much on the cards.
In terms of core business, we aim to be world leaders in the development of next generation spray dried dosage forms and difficult to handle products. To achieve this we will be investing significant amounts of time and money on our internal R&D programmes as well as investing in staff development programmes. For us the development of our key stakeholders, our scientists, is a vital part of retaining their allegiance to our business. Our staff will continue to be our number one asset and that sets us apart from the competition.
Alongside our spray drying capabilities we will continue to invest in new technologies that we see as complementary to our core business. Indeed we have already earmarked over 0.5 million in new investment in in the next three months to enhance our dosage form development capabilities.
What new spray drying innovations do you see from Upperton for their customers in the coming years?
I have always been of the opinion that spray drying is the fastest evolving, most versatile formulation technology in the pharmaceutical industry and I envisage that this perception will continue in the next 5 to 10 years.
There are many areas that we would like to explore further; these include the spray drying and formulation of highly potent drugs and, perhaps the hardest nut of all to crack, aseptic spray drying.
We will also continue to investigate ways of improving our knowledge and control of the spray drying process itself. For example, the control of size and the size distribution of spray dried powders, an important aspect of spray drying and it is an area where there is room for further improvement.
How do you see your competitors and the wider CDMO market over the next 20 years and how will it affect Upperton?
Upperton's key strength is its specialisation and prowess in our core technology, spray drying. We see this as pivotal and it's what sets us apart from some of our much larger competitors. Upperton will continue to expand its formulation services, adding further downstream options and dosage form capabilities yet we will still keep spray drying at the heart of everything.
As a small, highly specialised CDMO we are able to move quickly and respond to our customers' needs much quicker than our larger competitors. This is a key distinguishing feature and competitive advantage that we will strive to retain as we grow and evolve.
There is no doubt that consolidation in the CDMO sector will continue, but I expect that this will slow down in the coming years if it hasn't already begun to do so. I expect that the larger industry players will pause for breath and seek to re-establish their margins after such a hectic phase of takeovers and mergers that we have seen recently.
One area where I do expect to see growth is in the formation of collaborations and partnerships between the smaller CDMO's and other specialised contract service providers. There is a growing realisation amongst the smaller players that they can add value by working together to complement each other and in doing so offer a more streamlined service for their customers. This is something we are very keen on at Upperton and I see us doing this more and more in the coming years.