10th September 2019 - Autumn Newsletter
The start of September is always a busy time in anyone's calendar, whether you are a parent getting your children ready for school or a small CDMO looking to ramp up your development activities after the summer slowdown.
Here at Upperton things are no different, September marks the start of what is traditionally one of the busiest periods of the year. Autumn 2019 is looking no different with an incredibly busy schedule of events, business activities and more to come!
Here is a list of what we are planning up to the year end:
Launch of the new Upperton website
Our biggest ever capital investment programme to bring new GMP capabilities into our plant
Investment in new QC equipment to support our growing GMP activities
Acquisition of new R&D equipment to enhance our feasibility offering to customers
Attending a record number of major conferences and exhibitions
Starting a yearlong series of events to celebrate our 20th Anniversary
Upperton have launched a new company website improving user understanding, navigation and overall explanations of each of our services. We invite you to take a look and offer any advice.
Major GMP Capital Investment Programme
We continue to invest in equipment to enhance our capabilities in manufacturing final dosage forms. Our current focus is in enhancing/ increasing output in our tabletting capabilities. With this in mind, we have recently invested in new tabletting, tablet coating and release testing capabilities. This investment means that we now have the capability to produce up to 120,000 tablets an hour in our GMP facility. We will be providing more details of our investment in our next newsletter!
To cope with our expanding GMP activities we have recently acquired additional testing equipment including HPLC equipment (with RI detection) and new spectrophotometric based analytical equipment.
We are investing heavily in new analytical capabilities and equipment that can enhance our understanding of spray dried powders and final dosage forms. An example of this is the new Freeman FT4 powder rheometer which is capable of measuring powder flow properties in small samples, which is particularly useful at early stages of research when small quantities are available.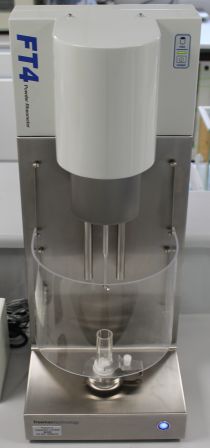 On the marketing side, we celebrated our 20th anniversary and are attending a series of industry focused events.
September
9th and 10th, Upperton's Richard Johnson (CEO) and Laura Mason (Director of Business Operations) are attending the DDF Summit in Boston, where we're sponsoring and exhibiting
11th, Dr Andrew Naylor (R&D Director) is attending the APS meeting in London
October
We will be hosting a networking event and seminar on Pharmaceutical Spray Drying in London, the exact date and venue will be announced shortly
November
Exhibiting at CPhI Worldwide in Frankfurt 5th to 7th in Hall 4, Stand 41H20. Attending will be Richard Johnson, Paul Kelsall (Director of Clinical Manufacture), Ian Lafferty (Technical Consultant) and Klara Fisken (Business Development Associate)
December
Andrew Naylor will be exhibiting and presenting at DDL in Edinburgh, 11th to 13th December alongside Sarah Bayliss (Director of Quality Assurance) and Klara Fisken